Larry J. Guffey, Patent Attorney: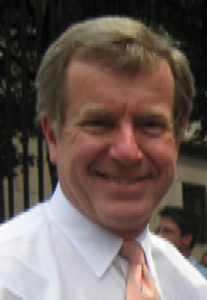 Larry J. Guffey is a former senior manager in the industrial products industry. As such, he has a uniquely broad background that provides him with insight into the business, legal and strategic challenges facing technology- oriented entrepreneurs.
His clients include major research universities, manufacturing companies, medium and small-sized service businesses, internet service companies and individual inventors and entrepreneurs. He began his engineering career with Owens-Corning and quickly rose through the engineering ranks and into a management career.
His legal career has been enhanced by his personalized study and development of a high-level of expertise in patent claim drafting. This expertise in patent claim drafting is evidenced by the fact that he is, for his internet service company clients, still able to obtain patents on "business methods" by overcoming 35 USC 101 "abstract idea" – Alice claim rejections.
He was a principal founder of the Intellectual Property Law Section of the Maryland State Bar Association and was elected its first Chairperson.
Education:
J.D., University of Houston
Ph.D. Studies (Geophysical Fluid Dynamics; completed all but the dissertation) Johns Hopkins University
M.S. in Mechanical Engineering, Johns Hopkins University
B.S. in Aerospace Engineering, University of Virginia
Bar Admissions:
U.S. Patent & Trademark Office
State of Maryland
Pamela K. Riewerts, Patent Attorney
Pamela K. Riewerts is a U.S. registered patent attorney. Her practice focuses on assisting clients in securing, maintaining, protecting, and commercializing intellectual property in the U.S. and abroad, and regularly counsels individuals and businesses, including start-up ventures and established entities.
Prior to her tenure at Oliver & Grimsley, LLC, Ms. Riewerts practiced law as an intellectual property litigation and patent prosecution attorney with Bowie & Jensen, LLC, a Baltimore business law firm. She also practiced as a patent litigation attorney with Morgan & Finnegan, L.L.P., a New York City law firm specializing in intellectual property and with McDermott Will & Emery, a Washington, D.C law firm.
Ms. Riewerts is a graduate of the Pennsylvania State University Dickinson School of Law. Ms. Riewerts holds an undergraduate Bachelor of Science degree in Agricultural Science and Biological Engineering, incorporating all engineering genres, and a minor degree in Environmental Engineering from the Pennsylvania State University. Ms. Riewerts also holds her Fundamentals of Engineering/Engineer in Training Accreditation (FE/EIT) from the National Council of Examiners for Engineering and Surveying (NCEES).
Education:
J.D., The Pennsylvania State University Dickinson School of Law
B.S. in Agricultural Science and Biological Engineering, The Pennsylvania State University
Bar Admissions:
U.S. Patent & Trademark Office
State of Maryland
State of New York
State of New Jersey
District of Columbia
Court of Appeals for the Second Circuit
Court of Appeals for the Fourth Circuit
Court of Appeals for the Seventh Circuit
Court of Appeals for the Federal Circuit
Supreme Court of the United States